It's official! I'm a resident of Lake Ozark, Missouri. After 5 fantastic years in Columbia, I've taken a leap and moved away. I figure if two of my friends can move to Texas and California... I can manage the lake!
Since I'm renting my new house, painting isn't really an option. Nor was I ready to take on such a task. Even though I can't paint, I still want to bring color into my living room! My pillows can only do so much.
Speaking of pillows... Here are a few of my favorites that I have found lately:
DIY Ruffled Rosette Flower
Missouri Pillow, Etsy


DIY Pillows from Sweaters, Pinterest


Etsy


Recycled Felt, Etsy


White Linen, Etsy
Oops! Got a little distracted. I do love pillows. If you've ever been to mi casa you will find pillows everywhere: on the couch, chair, bed, and floor. Pillows are the perfect addition to any room!
Back to my post. I wanted to add color to my living room without painting. I found an excellent idea on
Make It-Love It
's blog to hang fabric. What an excellent idea!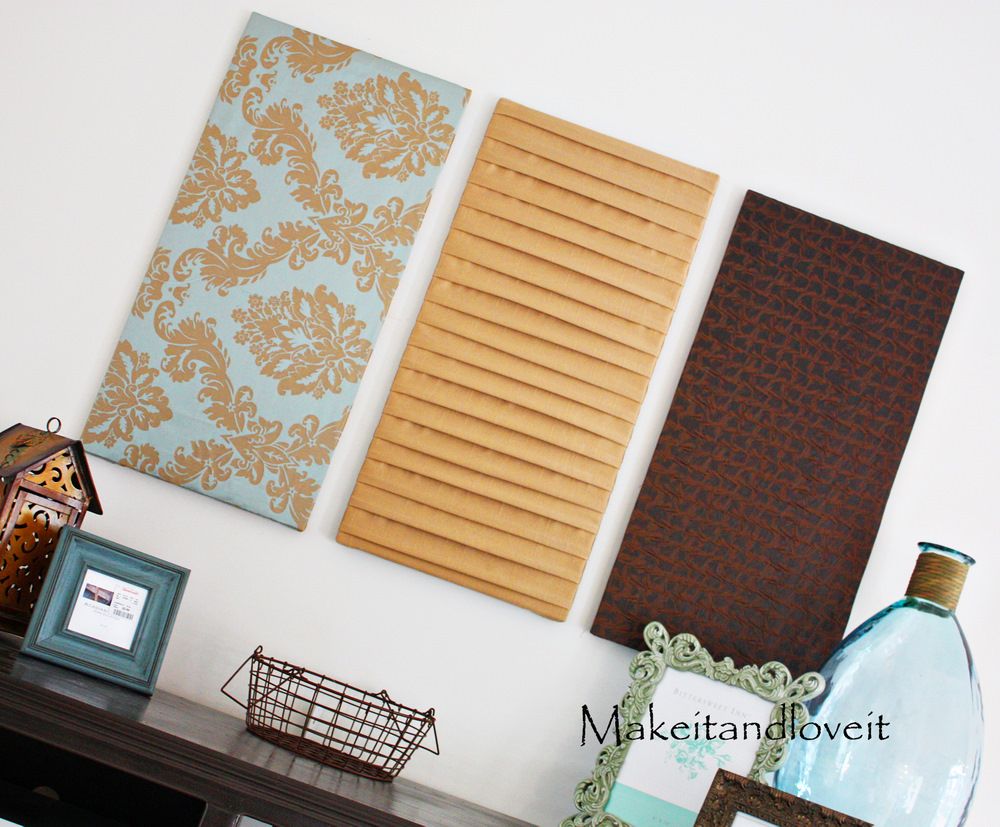 I picked up a few pieces of fabric at JoAnn's that matched my living room. The tutorial suggests using plywood, staple gun, and other supplies I didn't have.
Since I didn't have (nor want to buy) the necessary supplies, I was stumped as to how to complete this project. Then! A lightbulb lit above my head.
While walking around Michael's craft store, I found myself in the paint section. I found two large white
paint canvases
. I will admit, they were more expensive than the plywood approach...but they were much easier for me to handle!
I measured the fabric to fit the canvas like a snug blanket. Then, I started cutting and gluing away!
Lastly, I hung the newly wrapped canvases on the wall using 3M heavy duty frame strips. I stepped back and took a few photos.
An hour later, I was sitting on my couch and they fell on the ground. I jumped so high I thought I was going to land in my bedroom. Luckily, no one was trying to break in... I had only overestimated the capabilities of 3M products.
I put my thinking cap on and used nails.
Then, I ate a cookie. Really.. I did! My landlord made me cookies.
P.S. I joined a Linky Party! Check it out here:
Tater Tots and Jello