One thing that I've never been able to do is make sugar cookie cut into cut little Christmas shapes. No matter how hard I try to roll out the dough and cut neat little designs... it just doesn't work out in my favor. I will leave the sugar cookie cuttin' to my sister. She's practically a pro and I can always look forward to her delicious cookies at Christmas time.
Despite my inability to make cute little cookies that look like angels and reindeer, I've been determined to find Christmas cookies I CAN make. I like to call that persistance with a dash of procrastination (I wasn't exactly ready for the weekend to end).
As always, I found a blog to save the day!
Baked Perfection
posted her spin on Hershey's classic Candy Cane Blossoms. While chatting on the phone with my friend Ginger, we decided to bake together from miles away. She oh-so-rudely moved to Orlando and out of my driving zone. Sheesh! I still love her anyway!
1 bag Hershey's Kisses brand Candy Cane Kisses
1 1/2 teaspoons vanilla extract
Red and Green colored sugar
Preheat over to 350 degrees Fahrenheit. Remove wrappers from candies (approx. 35)
Beat butter, sugar, vanilla, and egg in large bowl until well blended. Stir together flour, baking soda and salt; add alternatively with milk to butter mixture, beating until well blended.
Shape dough into 1 inch balls. Roll in red and/or green colored sugar. Place on ungreased cookie sheet.
Bake 8 - 1o minutes or until edges are lightly browned and cookies is set. Remove from oven; cool 2 to 3 minutes. Press candy piece into center of each cookie. Remove from cookie sheet to wire rack. Cool completely. Yields approximately 35 cookies.
My KitchenAid and I seriously had a moment (or two...or three) during this cookie making experience. If you are a reader, you may recall the day I got my KitchenAid. It was a glorious and happy day! Since work/school/life has been so hectic lately, my 'aid has been put on the back burner. Not tonight! We made a mess and had a splendid evening. Ahhh.. Feels good to have her back.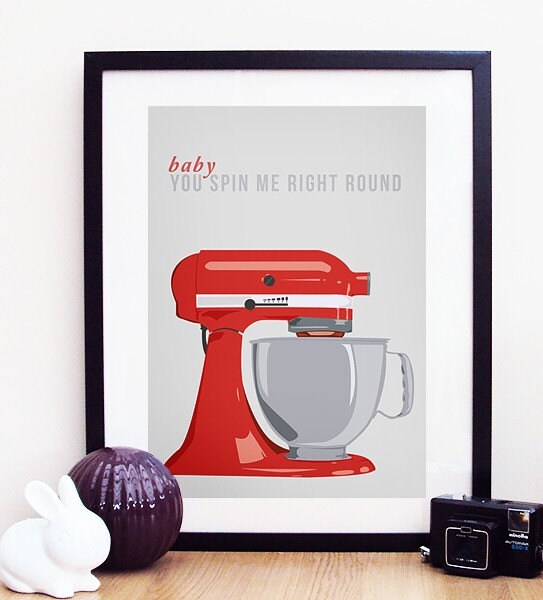 Etsy