Bless you,
Craftaholics Anonymous
, bless you. Not only did you come to my rescue and save my naked burlap wreath, but you are the queen of quick and simple seasonal wreaths. Your gift is appreciated here!
I pinned this little gem a few weeks ago and thought it was the perfect solution to my poor pitiful wreath. Let me back up, about a month ago I attempted a craft night. Instead, I had a great evening catching up with a friend and all I managed to do was wrap a straw wreath in burlap. Now you're up to speed on my naked wreath.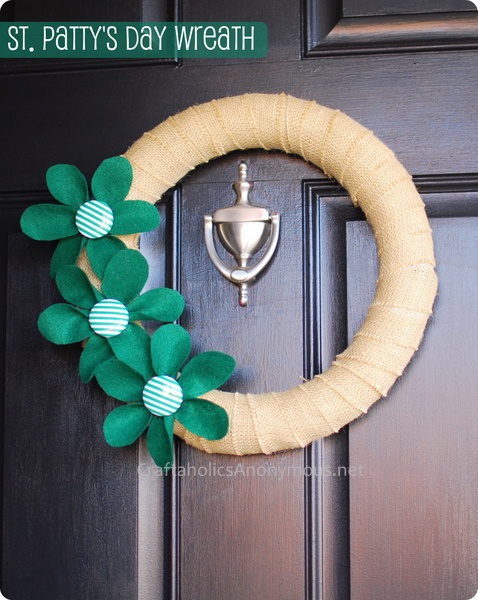 Back to business! My new favorite blog,
Craftaholic
's, gives a great description on how to make very simple flowers from felt, buttons, clips, and glue. See for yourself!
Here's what I used:
1 naked burlap wreath
felt
buttons
clips (I'm sure there is a more scientific name for them)
hot glue
Originally, I wanted to make my very own St. Patty's Day wreath but as usual I ran into a few obstacles. This time the obstacle was the color green. Yes, that green button is shining visibly in the picture above - but did I notice that last night? Of course not. I was extremely convinced that I did not own any green buttons or fabric of any kind.
Naturally, I moved onto Plan B. What colors are never out of season? Black and gold, baby!
Does anyone watch "The New Girl"? This week's episode was precious and about a situation in Jess' classroom. Check it out!